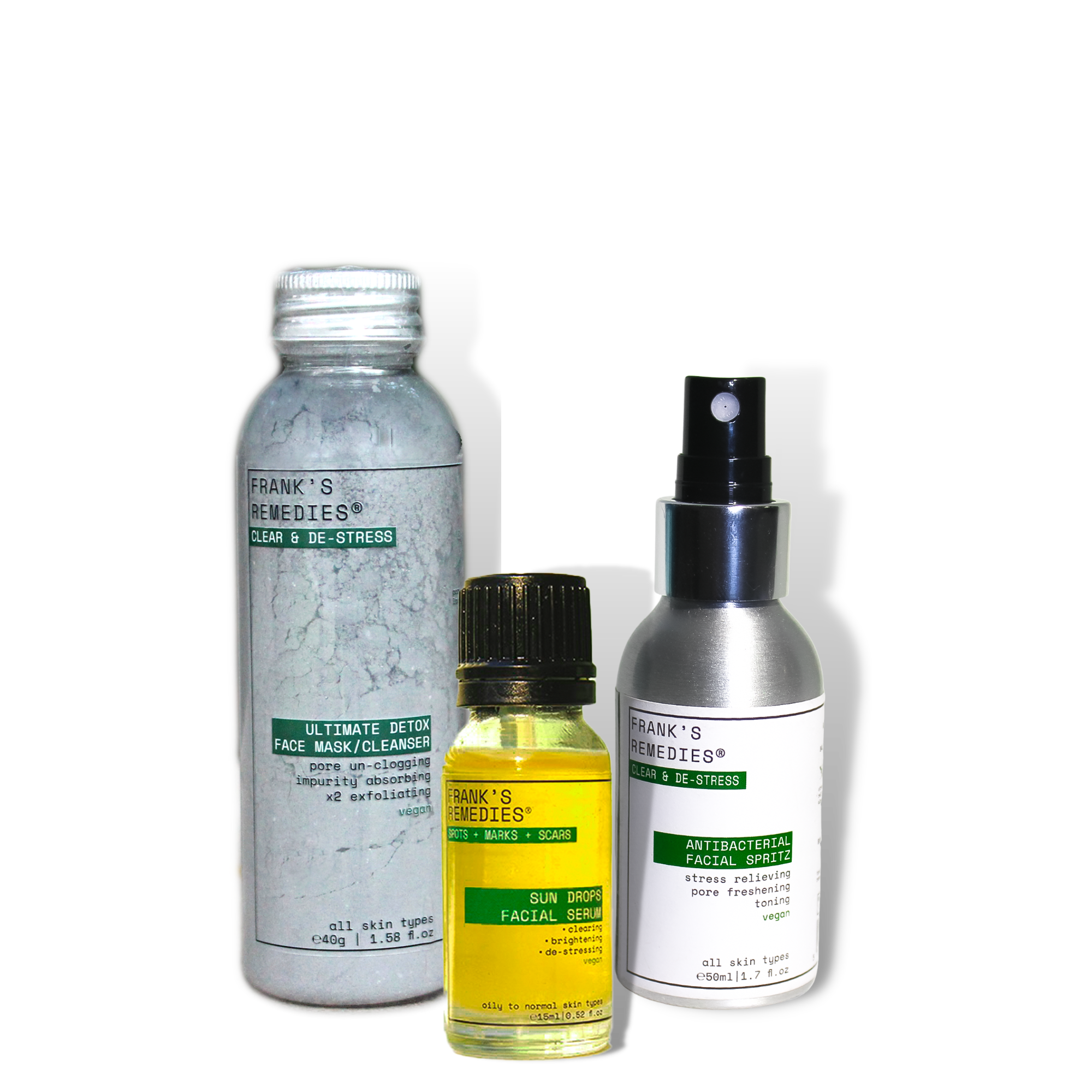 Ultra-Sensitive Kit
£59.00
Regular price
£76.00
off
Includes: Powder cleanser, facial toner & treatment serum
Help fragile, overly sensitive skin by incorporating these gentle remedies, that are made entirely from pure plant juices & the most natural of formulations - that are free from potential skin irritants & cater to ultra sensitive skin needs.
enriched with moringa, phytoceramides, rose water + vitamin e
reactive skin dermatitis sore skin post inflammation marks
30-Day Money Back Guarantee
Purpose
✔️ Gently cleanses with mircofoliant clay, to remove impurities, bacteria, toxins & skin stressing free radicals 
✔️ Revives dull, angry skin with essential skin nutrients that help clear imperfections, promote a radiant complexion, for touchable, happy skin
✔️ Balances skin pH, while maximising hydration to keep skin fresh & supple
Natural benefits
• Moroccan Lava Ash – natural cleanser, helps remove excess sebum, bacteria & toxins
• Indian Turmeric – powerful anti-inflammatory & ancient skin glow-giver. Helps reduce appearance of blemishes & dark marks while reviving depleted complexions
• Italian Rosehip & South American Moringa – known as the 'miracle tree' - this duo helps correct discolouration & brighten the appearance of dark marks, blemishes & acne scars (post inflammation marks)
• Chinese Cotton seed & plant derived Squalane - rapidly hydrates skin for an instant glow boost that gives a glass skin-like finish. Also helps smooth un-even skin texture & soften skin to feel and appear supple & healthy
• Austrian Pumpkin seed - rich in Vitamin E, Zinc, Omega 3 and 6 fatty acids, it has skin regenerating properties with miraculous ability to help improve skin moisture retention, for a youthful appearance
How to use
The Gentlest Cleanse - Ultimate Detox
Dispense a cap full of powder onto very wet hands & create a creamy paste by rubbing hands together. Apply to face & massage gently for 60-90 seconds. Rinse off as above. Or leave on for a further 5-10 minuets for enhanced results & face mask benefits.
Treat - Sun Drops Facial Serum
Revive over-reactive by dispensing 5-6 drops onto finger tips (hold bottle upside down, no need to shake!). Gently massage over the face in upward circular motions, avoiding immediate eye area. You can layer your usual face cream on top if you feel your skin needs more moisture.  
Multi-functional Skin Toner -
Antibacterial Facial Spritz
1. To use as a toner, after cleansing, close eyes & spritz 2-3 times onto face evenly, then wipe away any remaining impurities with a cotton pad. This also helps improve product absorption in your next step.

2. Spritz as needed throughout the day to help keep skin feeling clean, hydrated & relieve feeling of stress
Ingredients
Ultimate Detox Face Mask 40g
Kaolin, Rhassoul Clay, Activated Charcoal Powder, Turmeric (Ground) Powder, Salicylic acid, Aloe Barbadensis (Aloe Vera) Leaf Powder.
Antibacterial Facial Spritz 50ml
Rosa damascena (Organic Rose) Flower Water, Aloe barbadensis Leaf Juice (Organic Aloe Vera), (Leptospermum scoparium (Manuka) Floral Water, Hamamelis virginiana (Witch Hazel) Water, Pelargonium graveolens (Geranium) Floral Water, Taraxacum officinale (Dandelion) Flower Extract, Sodium benzoate & Potassium sorbate, Tocopheryl acetate (Vitamin E), Citric acid.
Sun Drops Facial Serum 15ml
Gossypium Herbaceum (Cotton) Seed Oil, Rosa canina (Rosehip) Fruit Oil, Cucurbita pepo (Pumpkin) Seed Oil, Persea gratissima (Avocado) Oil, Helianthus Annuus (Sunflower) Seed Oil, Moringa oleifera (Moringa) Seed Oil, Squalane, Oenothera biennis (Evening Primrose) Oil, Mauritia flexuosa (Buriti) Fruit Oil, Salicylic acid, Melaleuca alternifolia (Organic Tea Tree) Leaf Oil, Simmondsia chinensis (Jojoba) Seed Oil, Calendula officinalis (Calendula) Flower, Tocopherol acetate (Vitamin E), Citrus aurantium (Neroli) Flower Oil.
'Skin Saver - Daily Express'
"Frank's gentle vegan solutions are transforming young lives blighted by stressed and damaged skin!"
Social Impact - Your custom helps support school students
Our profits go into help funding, Frank's Glow Up Project. An AQA accredited in-school wellness program, helping address body image concerns & low self esteem for 11- 15 year olds - supporting them to be the best version of themselves! | Find out more
Good to know
• On average, customers see skin improvements in 2 weeks
• Products last 8/12 weeks on average when used daily AM & PM
• Fragrance free, scent comes from natural plant-based actives
• Free from GMO's, parabens, mineral oils & harsh ingredient actives
• Tested on humans, not animals. Proudly crafted in the UK
Get 100 points for signing up | Tap here
Complete quick & easy missions to earn remedy points & get money off vouchers!
Ultra-Sensitive Kit
£59.00
Regular price
£76.00
Benefits of skincare layering
Our skincare routines help ensure products are used in the right order & fully absorb into your skin. This allows each product & step to maximise its purpose & delivery of benefits, for more effective results.
The necessity of a routine
An effective skin care routine is essential when you're prone to breakouts or skin stress.
Sticking to a daily, morning & evening routine helps remove excess oil from skin, keep pores clear & help prevent new spots from forming.
FAQ'S
How do the products work?
Our experience led formulas are crafted with nature and ancient wisdoms - using the Earth's most effective ingredients that have demonstrated efficacy through thousands of years & are backed, and verified by extensive global research
How long does it take to see results?
Our customers have said to have seen a difference in their skin immediately after using, by looking more healthy in appearance. However, it normally takes 28 days for the skin to go through a full regeneration cycle to see optimum results
Can you use Frank's Remedies underneath make up?
Absolutely, our customers do this & say it helps treat, protect and also minimise the effect make up can have on stressed / spot prone skin
Can I get free advice on what products are best for my skin?
Absolutely, Frank's Remedies has a hotline for just this! Message a skin guide on WhatsApp: +44 7838 025541 or orders@franksremedies.com 
SHIPPING & RETURNS
Free UK Delivery
Get free uk standard delivery with orders over £35
30 Day Money Back Guarantee
If you don't see any imprimprovement after 30 days of use, get a full refund of the purchase price
Get in touch
• Instagram: @franksremedies
• Email: orders@franksremedies.com
Order tracking
Once your order is dispatched you will receive tracking details of your parcel
FRANK'S BELIEFS
Guided by experience
Stress skin specialist | Our formulations are crafted using ancient wisdoms, founder first-hand experience, with efficacy backed by ethnographic & scientific research
Ethical & responsible
100% vegan skincare. We craft waterless formulas (where suitable), with ethical & sustainable ingredient sourcing & fully recyclable or biodegradable packaging
Social impact
We support 11-15 year old students with mental wellness, through our AQA accredited in-school program. Along with helping to improve the lives of young people
Let's help you figure it out
Discover the skin solutions you need.
8 questions. Less than 30 seconds!
Take Skin Quiz